My History of Taking Swimming Lessons in the GTA

A Question and Answer Session with Swimming Student: Zander K, from Toronto, Ontario.
Q) When Did I Start Swimming Lessons?  
A) I started swimming lessons when I was six in 2008. I finished swimming lessons when I was nine and I was in level 8 in 2011. I tried many different pools and I ended up picking the recreation centre. That is also where I go skating. I am know eleven and know I don't do swimming I play soccer. Do you need to find a place for swimming lessons? Check out Aim Above's location page.

Q) Where did I Take Swimming Lessons?  
A) I took swimming lessons in the recreation centre. It doubles as a daycare centre, birthday room party for booking, and a skating rink. This particular pool is on Orianna Drive in Toronto. See here.

See the Alderwood Centre information here
Q) What was the Swimming Instructor Like?
A) I had multiple instructors but my favorite instructor was Stewart and he was funny but serious at same time he made a lot of jokes. He also was around 6 foot 3.
Q) What was the Best Part about Learning to Swim in Toronto.
A) The best part of learning to swim was to be able to swim and to just go in a pool for fun it was also a great learning experience. That is my history of swimming lesson in Toronto, Ontario.
Thrilled with Choice to Take Swimming Lessons
I am happy I did swimming lessons because I am now able to go in pools at hotels, or my grand parent's pool and go in the water at beaches, lakes, or oceans.
I can also tread water and swim freely without a life jacket.
More About my Swimming Instructors
For the junior swimmers courses, the instructors are really encouraging and they help out the whole time.They are always there for you, they always help.
In the kids in swimming level 1, 2, 3, and 4, the instructors help most of the time and they help with the long runs of swimming and treading water.
If your in swimming level 5, 6, 7, and 8, the swimming instructor helps from the edge of the pool. The instructor tells you how to dive nicely, and they also demonstrate it, but not In the water. 
Learn all about proper swimming technique here
After Standard Swimming Levels are Complete
If you complete all the swimming lesson levels you get to choose if you want to do bronze, silver, or gold lessons (if you want to be an instructor). However, I did not want to be a swimming teacher, so I finished swimming lessons, it was really fun.
Not only can you follow the Lifesaving Society, you can check out the Red Cross of Canada
Also my sister did the bronze lesson in Toronto, her name is Brooke. My brother is in level 3. My youngest brother is in level 1. Sometimes at the end of your lesson, if you're done early you get to jump off the diving board until the time runs out. It's a great way to enjoy some free place in the pool.

A Few of my Favorite Things
My personal favorite tool too use when we are swimming is too use the flippers. There are a few reasons to this.
The reasons are:
It's fun to swim with flippers in the pool.

They help you to swim faster.


When you take off the flippers and go back into the pool, you feel so light it also tickles in a weird way.
Some Not so Favorite Things
My least favorite way to swim is the the stroke where you lift one arm up and leave the other one down and take a breath while the on arm is up. My 2nd least favorite swimming technique is the back stroke, its the same but you're on your back and you don't need to put your face in the water. You can breathe the whole time (that's a plus, at least).
My favorite swim is called the skull, its a relaxing swim on your back where you lie on your back and cup your hands then slowly wave your arms and legs up and down.
My second favorite swim is called the rocket. The rocket swim technique is where you put your hands together on top your head then you launch off the wall by kicking the wall.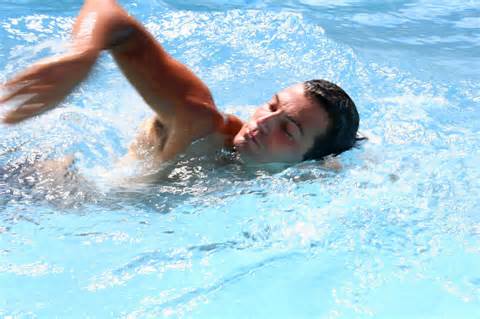 Conclusions About Learning to Swim in the GTA
That is my history of taking swimming lessons in Toronto. It was a fun and educational three year experience
I hope your child has the same fun experience as I did. I hope you enjoy your years at the recreation centre, just like I enjoyed mine!