No Matter What Fireplace You Are Looking For in Simcoe & Delhi- We have it
At South Coast Fire Place we've always believed that the customer deserves the best heating solutions out there, and that is why we decided to offer a large assortment of Napoleon fireplaces to fit the needs of all customers in Norfolk County including Simcoe and Delhi. Whether you are looking for the romanticism and coziness of wood fireplaces, you are tired from the mess and hassle, and you are after a gas or electric fireplace, or you want to bring warmth and soothing light to you garden with an outdoor fireplace, we can offer you some of the finely-crafted and stylish Napoleon fireplaces that will not only bring you comfort but will also add stunning elegance to both indoor and outdoor spaces.
Napoleon Grills and BBQs in Simcoe & Delhi
Nothing can match the fun BBQ parties have to offer, but you can enhance both the experience and the food's taste with one of the best grills and BBQs on the market. We offer a great selection of charcoal and gas Napoleon grills and BBQs that will suit the needs of even the most demanding grill masters out there. They are carefully designed to ensure that no matter what you cook, it will match the quality of high-end restaurants and at the same time, they are extremely safe and secure, guaranteeing you will be protected from painful burns and accidents. Looking for a grill that will cook the steaks and pork chops fast over direct heat, or a BBQ for ribs, beef brisket or whole turkey that offers steady low and slow heat? We have it all and at a reasonable price.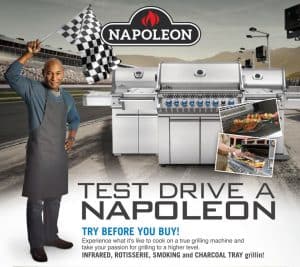 Everything You Need in One Place
Fireplaces don't just offer comfort and grills, and BBQs aren't simply for cooking. They can make your life easier and bring style and elegance to your home and your backyard, but not all products on the market can offer all this. Napoleon fireplaces, grills, and BBQs can give you all this and much more, and we have one of the finest assortments of their products, visit South Coast Fire Place in Tillsonburg, serving the area from Port Stanley to Port Dover and everywhere in between including Simcoe and Delhi.